Caril Chasens

Sculpture in Wood

Book

Klicken für deutch./ Click for German version.

Wood carving as a 21st century art, original sculpture and ideas, digital collage, artist's portfolio, writings, woodcarving tutorials for woodcarvers and artists, visual arts and woodcarving links, links to new movements and new directions in the visual arts...
... Ghost in the Library



Paddleball Head - the animation..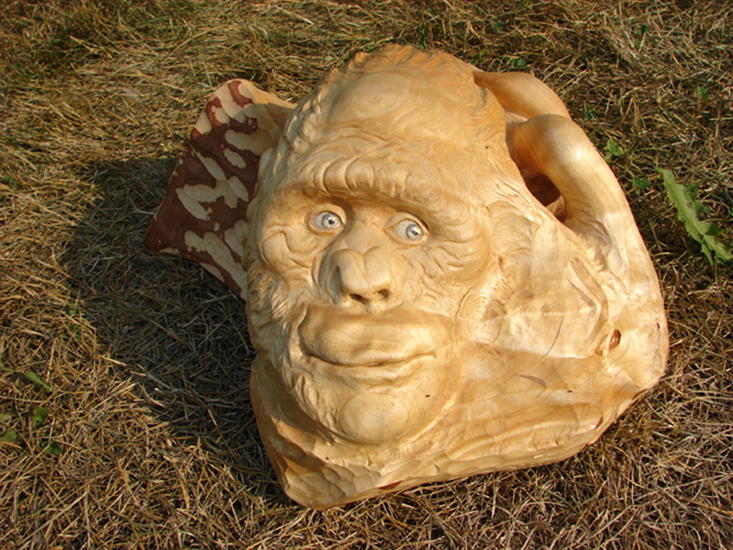 Hominidium birch burl
It was interesting combining chimp and human features.... More
....


I use wood as a medium for original one-of-a-kind sculpture. Wood, containing and reflecting the complexity of nature, is, I feel, a medium deeply suited to this time in history.
Many of my carvings show animals within environment, the environment abstracted (a different abstraction) in the unique nature of wood. And, I have been experimenting with digital collage...
Molten Wood-digital collage with wood sculpture
Digididdles - More digital collage
Horsey Face pine burl, 26"
....
....
All works are original and one-of-a-kind.
....
Artifact, birch, 21"
The bird is a yellowbellied sapsucker, larger than life.



Floating Horses birch, 36"

Sound in Water (Orcas) birch, 36"

Treehugger birch, 17"

Entseed, 2004, birch burl, 7"

Mother Nature, 2003, birch burl, 24"

Consider Mouse, 2004, steamed pear, gold leaf, 14" ...see the sculpture..

Runners 1996, birch, 40"

The Minotaur (Portrait of Pablo Picasso) 2000, birch, red cedar, 31"

Pterodactyl 1999, alder, 39"

Stellars Jays 1996,pacific yew, 18"

Couple of Wolves 1996, butternut, 20"

Passage 1996, birch, cottonwood? knot, 24"

System With Frogs, 1999, myrtle, 24"

Food Chain 1997, birch, willow, 28"

Moose at the Garden Fence 1995, butternut, 4ft. x 4ft.
....



Molten Wood-digital collage with wood sculpture

Digididdles - More digital collage

The book .. Molten Wood and Feral Ideas - Art and Words from Outside the Outside

Professional portfolio

Artists Statement - Casting molten wood

Woodcarving and Sculpture Tutorials

How to do Original Woodcarving

Displaying Wood Carving As Art

A Fine Line: Working with the Fragility of Wood

:::::::::::::::::::::

New directions in art - Links to new movements, new directions, new ideas, what is happening in the visual arts

Links to woodcarvers' websites

I welcome comments and feedback... please include your email address if you would like a reply